15th May 1919
Imperial Hotel
Thursday
Bright and early before I went to breakfast the opening of my door revealed Alex Jack standing outside - Had heard he was in Town and came to look me up before his classes. He is taking a three minth course in Business, finishing up next week. Hopes to get a home soon.
Went to Kensington Gardens and they [look] glorious in their shiney colours.
*****[Paris?] is not in it with London.
Have failed all along the line to locate the Wildes - Reids (relations). I think Reading is the place but have not been able locate them, when I come back from Ireland will have a run down [there].
Nurse Cavells remains were brought to Westminister for services to day. Queen Alexandra present.
I had Ethel for dinner - the mother not so well to day.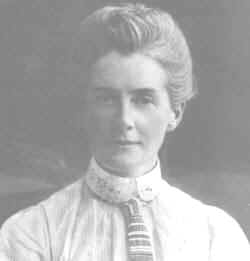 Miss Edith Cavell
[transcribers notes:] Executed during WWI was Edith Cavell, a nurse from England who was working in Belguim during the war. While not a spy, secretly she worked helping British, French, and Belgian soldiers to escape from behind the German lines and eventually rejoin their units. She housed as many as 35 refugees at once in the nursing school where she was the administrator. When the Germans occupied Belguim they converted Cavell's nursing home into a Red Cross hospital, and let her continue as Matron under German supervision. By 1915 she had helped more than 100 British and an additional 100 French and Belgian soldiers. but the Germans grew suspicious and arrested her in August. Her trial in October lasted only two days and resulted in a death sentence, in spite of appeals from both the American and Spanish ambassadors for clemency. On the morning of October 12th , 1915, Edith Cavell was executed by a German firing squad and buried nearby. Eventually her body was exhumed and returned to her native soil in Great Britain for reburial - you will find these words on her statue in St Martins Park "'Humanity, Fortitude, Devotion, Sacrifice"
May 16th 1919
Imperial Hotel - London
Friday
To day I visited Westminister Abbey and had a walk along the embankment. Good look at the obilisk and the various bridges. The Lions at the obilisk had several holes through the metal where falling shrapnel struck them. I am inclined to think that the diversion measures probably did more damage to London people and property than the bombs that the Bosh dropped.
In the evening I went to Bells for dinner, I like them as I did of old. But the Aunts always trick to keep us apart - Jessie they never *** look to see them. They are queer spinsters, mother delightful.
Called on Lieutenamt Colonel F****[Freddy?] Hurbut, head of Division Department, and got my Long Service Medal.
1578